---
Sunhelm is the leading supplier for Floating airbag/Salvage airbag.We have provided offshore floatation solutions for Sri Lanka, UAE, Singapore and many other countries.
Marine salvage airbag are also known as inflatable buoyancy airbags, floating airbag, or salvage airbag.Standard Sunhelm floating airbags have sizes up to 2m in diameter and 20m in length.Can produce up to 50t buoyancy. 
Usually it's for sunken ship salvage in shallow sea waters, laying of underwater pipelines. and installation of box culverts.Salvage airbag have obvious advantages of low cost ,easy handling and long service life.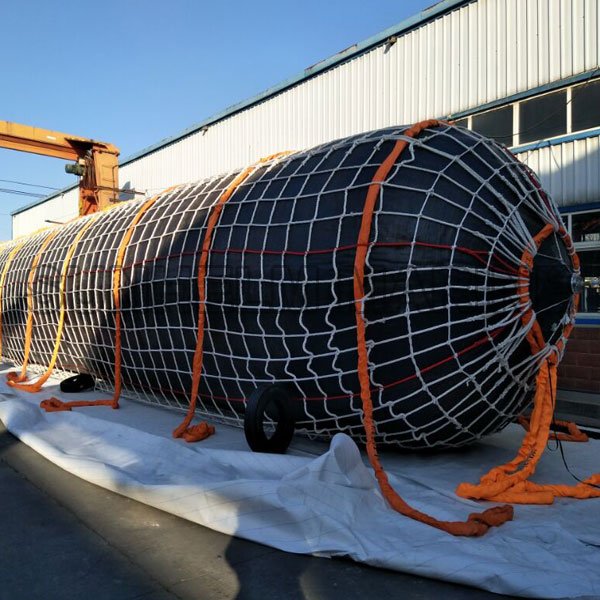 Marine Salvage Airbag Buoyancy Flotation Airbag
Sizes: Diameter range: 600mm~2000mm
            Length range: 4000mm~16000mm(Customize ok)
Layer: 4~12Layers
Work pressure: 50kPa/80kPa
Maximun Buoyancy Ton: 1T~50T(Much more)
Material: Natural rubber
Material of metal parts: Stainless steel
Certification:  ISO 14409、BV、CCS、ABS、LR
Warrenty: 12 months
Lead Time: Within 20 Working Days
Payment Terms: L/C, T/T, D/P, Western Union, Money Gram
Transport Package: Wooden Pallet
Why SunHelm's Marine Salvage Airbag?
Safer and more assured
SunHelm is using the best natural rubber, which has high strength and more stable performance.It can withstand higher operating pressures, and its performance is far superior to its peers. Assurance of true number of layers.
Quality detailing jobs: Stainless steel gas nozzle, cross winding process, etc. In order to better meet the requirements of customers for assisting floatation, we can also completely customize floatation airbags of different sizes.
Excellent quality control and after-sales service

Sunhelm never neglect the production environment, and the production environment fully complies with the 5S standard. It can fully cooperate with customers in product certification testing.
You can always understand the production process and transportation process of the products you buy, and we have professionals to solve any problems when you use them. We have a one-year warranty, during which we will guarantee if there are any problems with the product. But in fact, the customer complaint rate has only been 1% since the company was founded.
· Inflatable buoyancy airbags are easy to fix and can provide a large amount of buoyancy after inflation.
· Floating airbag have obvious advantages of low cost,easy handling and long service life.
· For the offshore oil&gas pipeline laying
· For underwater telecommunication cable installations
· Used to help float other water equipment,such as power plant equipment,Pontoon bridge construction etc.
· For wrecked ship salvage in shallow waters
Buoyancy Salvage Airbag Specification
Types
Maximun Buoyancy(T)
Airbag Diameter(m)/Le(m)
0.6
0.8
1
1.2
1.5
1.8
2
F1
1T
4
2
 
 
 
 
 
F2
2T
7
4
3
 
 
 
 
F3
3T
11
6
4
3
 
 
 
F5
5T
 
10
6
4
 
 
 
F7.5
7.5T
 
15
10
7
4
 
 
F10
10T
 
 
13
9
6
 
 
F12.5
12.5T
 
 
16
11
7
5
 
F15
15T
 
 
19
14
8
6
 
F17.5
17.5T
 
 
 
17
10
7
6
F20
20T
 
 
 
 
11
8
6
F25
25T
 
 
 
 
14
10
8
F30
30T
 
 
 
 
17
12
10
F35
35T
 
 
 
 
 
14
11
F40
40T
 
 
 
 
 
16
13
F45
45T
 
 
 
 
 
 
14
F50
50T
 
 
 
 
 
 
16
Sunhelm Marine Salvage Airbag Structure

D:Bag Diameter LOA:Effective Length L:Total Length 1. Mouth 2. Head 3. Body
Have a Conversation With Us!