The most cost-effective safe ship launching method. High-quality wound multi-layer rubber airbag.
---
Beyond ISO14409 International Standard.
Super high capacity performance and burst pressure.
Superior performance in harsh environments
Every detail of SunHelm ship launching airbag is paid highly attention.
Original Ultra-High Pressure Airbag (Independent R&D).
Ship launching airbags Introduction
---
Ship launching airbags are the current ship launching program with the least cost and risk. It overcomes the shortcomings of fixed track launching and provides convenience for ship repair. At present, it is mostly used for the launch of small and medium-sized ships, and the productivity of shipbuilding and ship repairing in small and medium-sized shipyards is limited. Help companies in the shipbuilding and maritime industries save energy, time, workload and investment.
The Reason named SunHelm Ship Launching Airbag as "Defender", because of high performance in ship launching, Various performance indicators beyond international standard. Protect ship launching safety fully. Safety indicators highest reach 4.5-5 Times than international standard. SunHelm's ship launching airbag uses a cross-wound process, which can withstand greater impact. We use 100% high-quality natural rubber, which is more durable. The service life is more than 6 years, and other Chinese factories mostly use synthetic rubber.
To exceed the performance of ISO14409 standard
---
Safety factor is the embodiment of comprehensive performance of ship launching airbag, it is an important factor to ensure the safe launching of ships. The safety factor of ship launching airbags depends on three important factors: material, design and production craft. At present, the safety factor of ship launching airbags from SUNHELM has reached at least 4.5 times in an all-round way, exceeding ISO14409 by 1.5 times.
Excellent bearing capacity performance
---
Bearing capacity definition: When compress deformation reaches 70%, and the inner pressure reach the rated working pressure,Pe. (Unit:kN/m) The core of bearing capacity is to test the pressure that airbag can bear during compression. The stronger bearing capacity,reflect stronger safety and stability of airbag.
Super high burst pressure
---
Burst Test Definition: Airbags shall be tested to the minimum burst pressure as specified in table 2. Fill the airbag with water until the airbag burst. The water pressure at the time of bursting shall equal or be more than the value specified in table 2 (ISO14409 Required).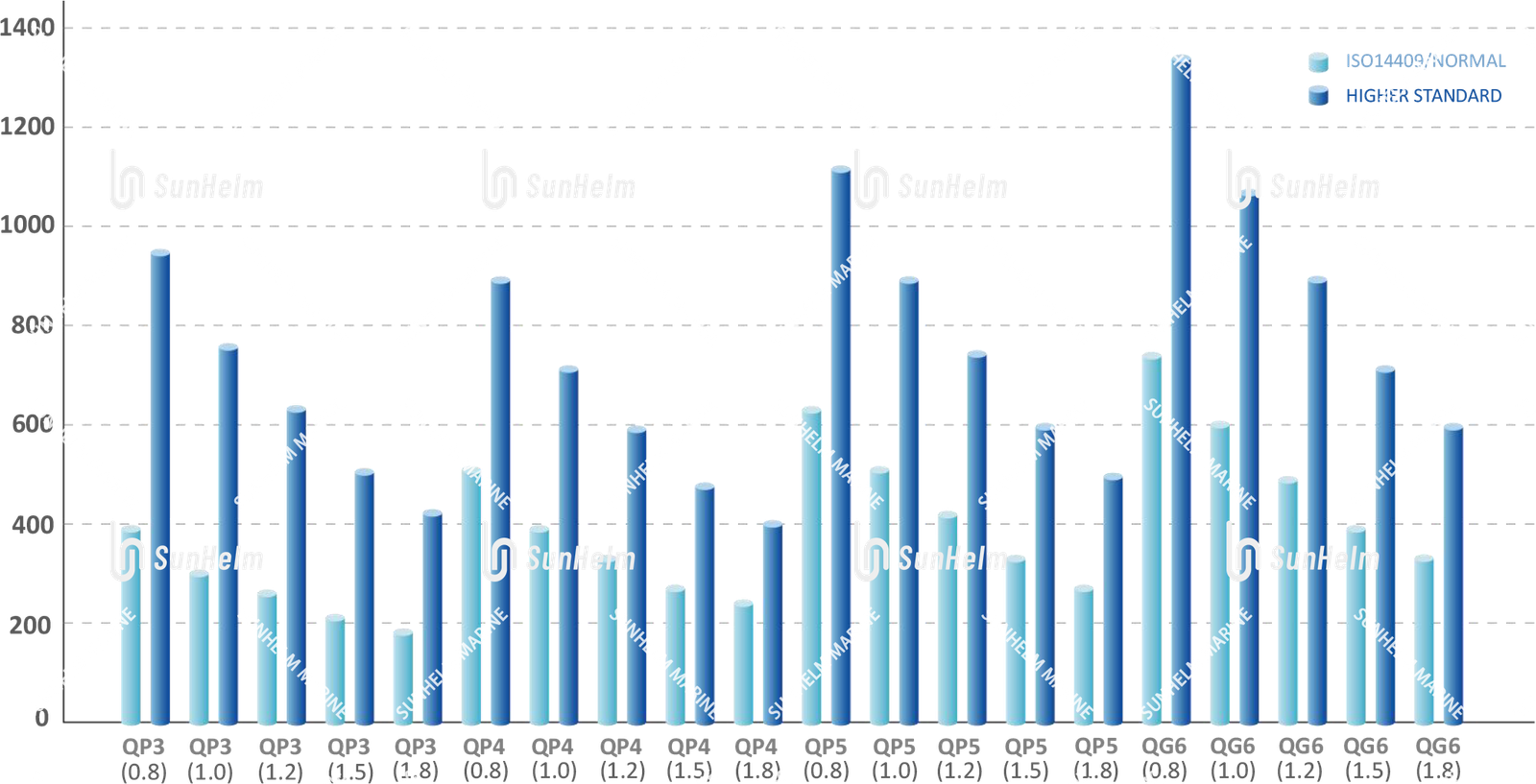 Ship launching airbags in harsh environments
---
In order to adapt to the harsh climate of Antarctica,SunHelm R&D team upgraded the material and process of the airbag, and cooperated with the Brazilian scientific research station to successfully complete the construction of the scientific research station. So far, the sales network of SunHelm products has covered seven continents in the world.
Ship launching airbags Construction
Outer Rubber Layer Part
I Mechanical protection (Friction)  I Chemical Resistance (Environment)  I Energy dissipation
Synthetic Tire Cord Layer Part
I Carry load of membrane force  I keep the geometry stable
Rubber Matrix Part
I Adhesion to reinforcement material  I Distance layer of fabric plies  I Shearing force loading
Air Tightness Layer Part
I Strengthen air tightness  I Reinforces rubber & tire cord plies
Inner Rubber Layer Part
I Pressure transfer  I Ensure air tightness  I Provides chemical resistance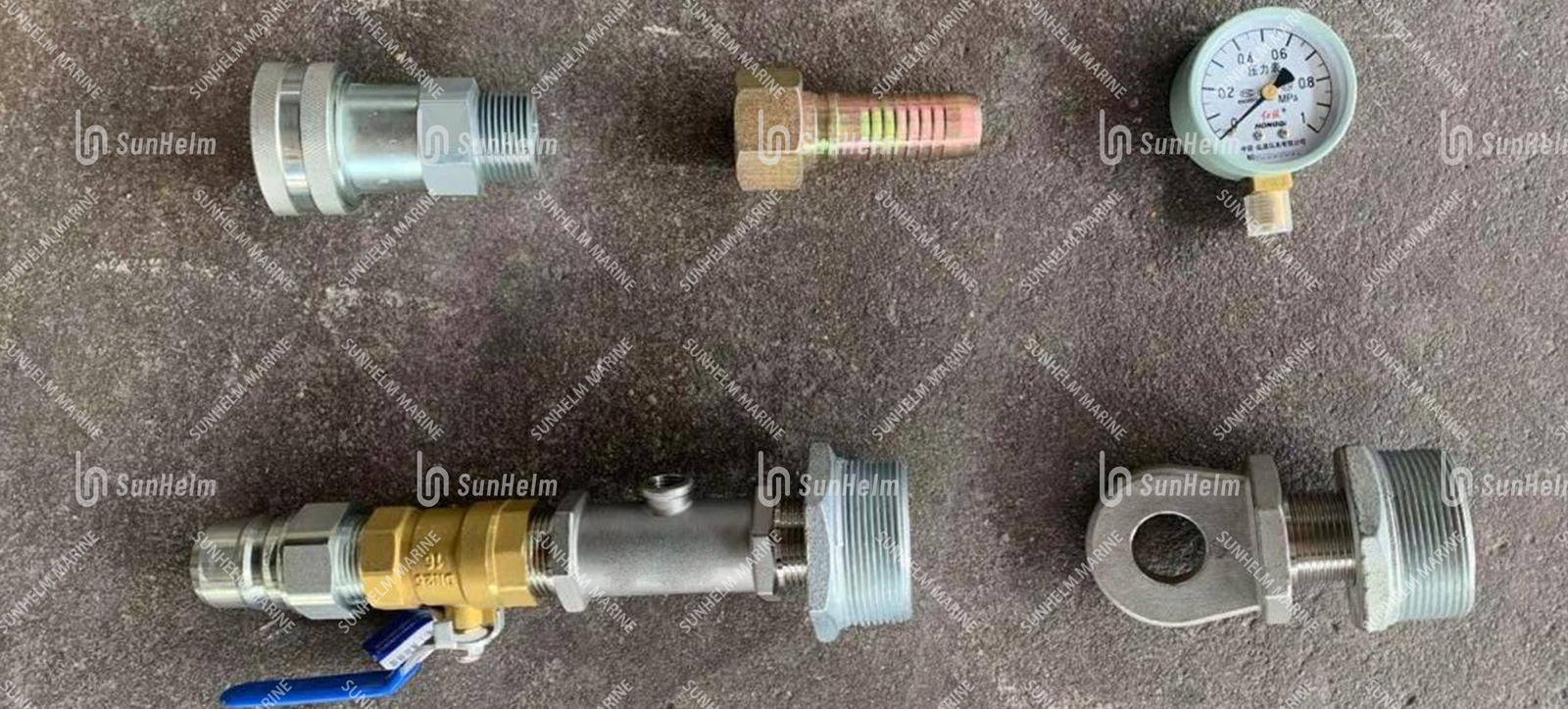 Step 1: Twine sealing tape on Reducing Joint.
Step 2: Reducing Joint connect Tee Coupling,seal with sealing tape.
Step 3: Ball Valve connect to Tee Coupling,seal with sealing tape.
Step 4: Quick Connector A connect Ball Valve,seal with sealing tape.
Step 5: Install Pressure Gauge to Tee Coupling.
Step 6: Quick Connectors B connect with Hose Fitting.With sealing tape.
Step 7: Quick connectors B connect Quick Connector A.
Step 8: Hose Fitting connect with inflated soft rope seal with Hoop.Start inflating.
---
We will provide you with the best quality products and the most competitive prices!
Want to ship quickly?
No problem!
Ship launching airbags Performance
The following parameters are the dimensions and parameters of standard ship launching airbags.However,ship launching airbags formulate different product plans according to different project requirements.The project party needs to provide corresponding ship type,size,and weight.SunHelm Technology Department issues the project product plan,or the project party can directly provide the required airbag model specifications.

D:Bag Diameter LOA:Effective Length L:Total Length 1. Mouth 2. Head 3. Body
D: Airbag Diameter (Uncompressed) H: Height after airbag compressedy
Layers

Dia.

Rated Working
Pressure

Bearing Capacity at 70%
Compress Deformation

Minimum
Burst Pressure

m

kPa

KN/m

kPa

6 Layers

1.2

197

260

887

1.5

157

259

709

1.8

131

259

591

7 Layers

1.2

229

302

1031

1.5

183

302

824

1.8

152

301

687

8 Layers

1.2

260

343

1172

1.5

208

343

937

1.8

173

342

781

9 Layers

1.2

291

384

1311

1.5

233

384

1049

1.8

194

384

874
Bee Nest Airbag
Bee Nest Puncture-resistance airbag is a unique patented product independently developed by SunHelm own R&D teams. On the basis of traditional airbags, The Bee Nest puncture-resistance airbags add layer of high-strength anti-puncture composite material, which can effectively prevent accidental scratches and punctures caused sharp objects, improved the service life of the product significantly.
Puncturing prevention. High-density steel cord form a protective layer, overcomes the drawback of rubber easily puncture.
Scratching prevention. High-density steel cord layer prevents accidental scratches efficiently.
Less layers ,easy for operation.No need to increase the thickness of the airbag to improve the puncture-resistance performance.
Tell Us Your Needs About Ship Launching Airbags!