---
The
caisson moving airbag
is a specific airbag used to move the built bridge caisson on land. It also be called
industrial airbag
. The caisson is a kind of pier used in the construction of a cross-sea bridge. The
caisson moving airbag
follows the ancient method of moving heavy objects by rolling wood. After prefabricating the caisson on the pedestal, the
lifting airbag
is stuffed into the trench at the bottom of the caisson, and the caisson is inflated to lift the caisson. After that, the caisson is pulled by the tugboat and arrange in the ocean. The
caisson moving airbag
has a large contact area with the ground, and the bearing capacity is evenly distributed. It is very adaptable to the site and a very popular transport equipment in currently ocean construction. The difference between the
caisson moving airbag
and the
ship launching airbag
is the working pressure. Therefore, the ship launching airbag cannot replace the
caisson moving and lifting airbag
.
Caisson Moving Airbag for Marine Industry
Sizes: Dia: 0.8m/1m
            Length: Depend on cases
Operating Pressure:0.17mPa~0.35mPa
Material:100% Natural Rubber
Material of metal parts: Galvanized steel
Certification:  ISO 14409、BV、CCS、ABS、LR
Warrenty: 12 months
Lead Time: Within 20 Working Days
Payment Terms: L/C, T/T, D/P, Western Union, Money Gram
Transport Package: Wooden Pallet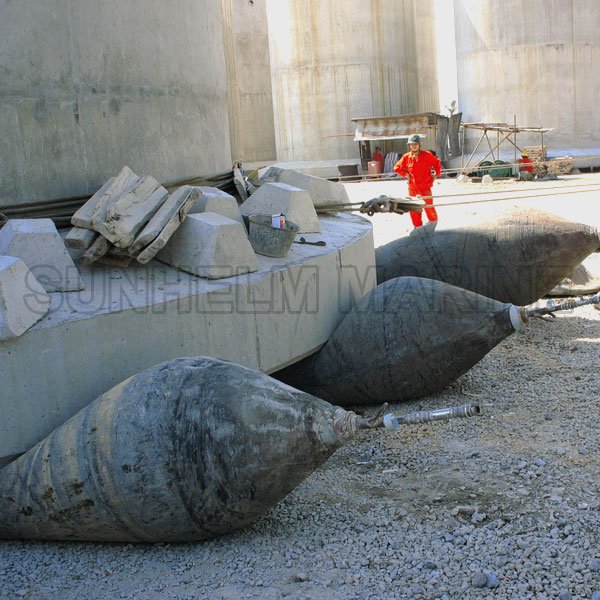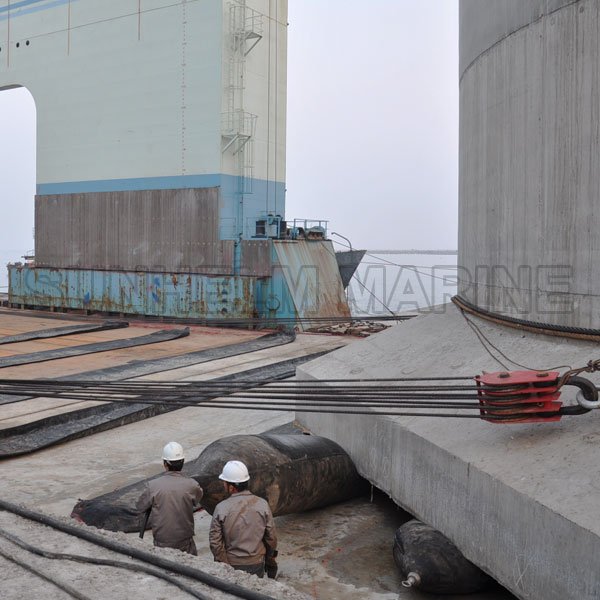 Sunhelm is an experienced airbag manufacturer with 15 years of history. Has rich project experience in airbag production. The caisson moving airbag requires a high working pressure. Our unique winding process greatly increases the strength of the airbag. The product quality has passed the third-party inspection and certification to ensure the safety of customers. If you need a product certificate, you can consult us at the time of inquiry!
Caisson Moving Can be Easy!
Low cost, Unlimited space
---
Sunhelm Caisson Moving Airbags Specification
Type
Diameter(m)
Operating Pressure
Operating Height
Bearing Capacity Each Meter(t/m)
0.4D
0.5D
0.6D
0.4D
0.5D
0.6D
C11
0.8m
0.17Mpa
0.3m
0.4m
0.5m
12.8
10.7
8.5
1m
0.14Mpa
0.4m
0.5m
0.6m
13.2
11.0 
8.8
C20
0.8m
0.36Mpa
0.3m
0.4m
0.5m
27.1
22.6
18.1
1m
0.30Mpa
0.4m
0.5m
0.6m
28.3
23.6
18.8
C21
0.8m
0.35Mpa
0.3m
0.4m
0.5m
26.4
22.0 
17.6
1m
0.29Mpa
0.4m
0.5m
0.6m
27.3
22.8
18.2
C30
0.8m
0.42Mpa
0.3m
0.4m
0.5m
31.7
26.4
21.1
1m
0.35Mpa
0.4m
0.5m
0.6m
33.0 
27.5
22.0