Sunhelm can not only provide a wealth of marine equipment, but also provide technical personnel to provide customers with systematic and professional project solutions. Including marine salvage solutions, marine buoyancy solutions, STS solutions, and ship launching solutions. When you face the above problems but do not know what to do, you can ask Sunhelm for help! We will provide you with the most economical and feasible solution based on your project's specific intelligence and information.
SunHelm Buoyancy
Project Solution
Do you need to build infrastructure in the ocean? Do you need to salvage the heavy objects or ships that you sunk into the sea? Are you looking for floatation products for laying ocean pipelines? Sunhelm can help you design the project implementation plan, and also recommend the products needed for the implementation plan. You only need to spend a littile cost to get a perfect solution.Come to see how we work for you
Customer Requirements
To know the following information and documents from customers.
Know the overall situation and functional requirements of buoyancy or floating.
The floated material's parameters or drawings,like volume,weight,center of gravity,structural dimensions.
Know the floated material's total buoyancy capacity and working depth by customer estimated.
Carry out the general process and work steps of the overall floating/buoyancy project.
Solution Design
Analysis and calculation
According to buoyancy capacity,layout space and structural size, preliminary calculation of the specifications, quantity and binding configuration of the selected floating airbag.
Drawing layout
Draw the side view,top view,outline drawing of the airbag and other ancillary structure drawings of the floated objects, and arrange products.
Stability analysis
According to the position and buoyancy of floating airbag,the buoyancy calculation is carried out step by step in combination with the operation process.According to the overall draught,step-by-step and hierarchical analysis and calculation of the overall stability and inclination angles,it may be necessary to locally adjust the layout and buoyancy requirements Afterwards,analyze and calculate, and adjust repeatedly until it meets the basic requirements of stability.
Solution Optimization
Partial modification of the plan according to the calculation results
Consider the structural strength and location space of floating airbag binding and connection, and improve the airbag connection method.
Increase the layout of the pipeline control valve group: adopt remote control by wire and wireless remote control, and adopt fixed control valve group with load platform.
Lay out pipeline system.
Preliminary preparation of operating process documents.
Solution Confirmation
Communicate the plan with the customer and confirm it
If customer proposes to modify, specific adjustments should be made according to the modified comments
When it comes to changes in layout and buoyancy, re-analyze, calculate and check
Involving changes in the binding structure, the structural strength and operating space should be considered.
Preliminary preparation of operating process documents.
Preliminary Design
Carry out preliminary design according to the confirmed plan
Drawing design of floating airbag
Drawing Design of airbag accessories
Pipeline and control valve group configuration diagram, parts diagram
Project Construction
After customer confirms that project can be implemented, the order, technical design, manufacturing, and delivery are carried out according to the company's process.  On-site technical support is required for additional execution.
Contact us for complete solutions
Ship-to-ship operations are mainly used for the unloading of liquid cargo at sea. Have you never taken over an STS project? Don't worry about what to do, Sunhelm will help you design a complete STS solution! You can control every procedure, and we will consider all risks for you. Choose Sunhelm, you can rest assured.
STS Operation Main Process
1. Overview of customer requirements for pneumatic fenders.
2. Preliminary estimate of product specifications and quantities based on ship parameters.
3. Detailed analysis and calculations, adjust specifications and quantities to meet design specifications.
4. Determine the final product specifications and quantity.
5. Draw the layout and installation position of the coordinated product on the layout drawing.
6. Choose appropriate accessories according to the specifications.
7. Adjust and organize layout drawing, send to customer for confirmation.
8. Customer feedback, modify and improve.
9. Marketing staff make quotation documents.
10. Organize and compile the technical data required for the product.
STS Operation Involved Main Products
STS Hose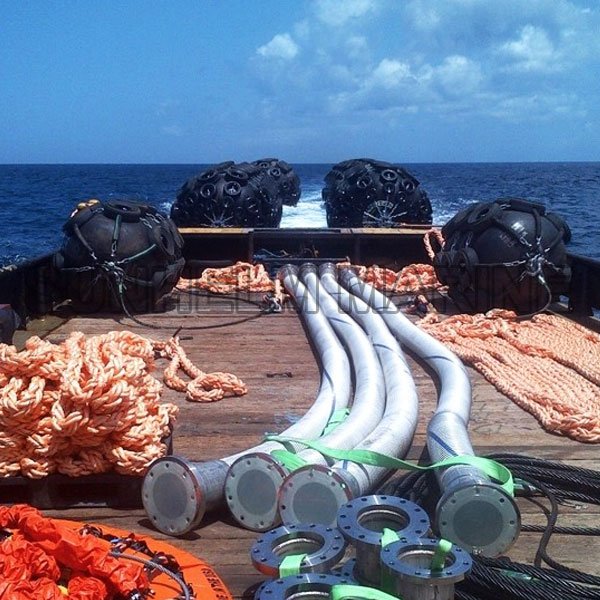 STS Mooring Rope
Contact us for complete solutions